Welcome to New Beginning Christian Fellowship Church Website Ministry. Our prayer is that you would find this site informative and encouraging. Also, we would like to invite you to worship with us this week and find God's purpose for your life through His Word & Spirit. We believe God wants to bless "you"! So come in faith and know HE LOVES YOU!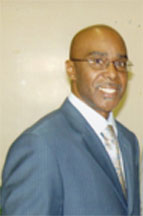 Pastor, Elder Terry Whitehurst is a graduate of Caleb School of Theology. He received his Bachelor of Arts in Business Management from the University of Phoenix. Elder Whitehurst served as Protestant Chaplin at Terminal Island Federal Correctional Institute for nineteen years.
In pastoral service for twenty-two years, Elder Whitehurst has pastured four churches. Neighborhood Church of Los Angeles, (1987-1995), Good News Church of Pasadena, (1995-2000), and served as Senior Pastor of Christ Temple Cathedral Church of Christ (Holiness) U.S.A., also in Los Angeles, (2004-2009). With the anointing and discernment of the Holy Spirit, he is a dynamic messanger of the Gospel as well as an effective Conference and Seminar Speaker.
In addition, Pastor, Elder Whitehurst has taught and is currently teaching a bible class on his job at Mattel Toys for over fifteen years; he served as a Discipleship and Evangelism Trainer, Western Diocese Southern District Chairman which he was the overseer of fifteen churches, and Western Diocese Summer Camp speaker and counselor for fifteen years. Pastor, Elder Whitehurst has been married to his lovely wife, LaRonica for twenty six years. They currently reside in La Verne, California. They are parents of three adult sons, Donte, Bryan and Jeffrey Whitehurst.
Pastor, Elder Terry Whitehurst and First Lady, LaRonnica - Ressurection Day, 2015
Mission Statement: Winning The Lost At Any Cost By Building The Church From The Inside Out
Our Core Values: Connecting to God and Others Through:
Worshipping God Worship Service

Growing in the Word of God Essentials of Faith Class

Fellowshipping with the Saints Sunday School

Serving God Bible Study
Every Tuesday at 5:30 p.m. - New Beginning Corporate Prayer. To Call In, Dial- (712) 432-1212, Meeting ID 929901687